Instagram is a powerful marketing tool you can use to get consistent leads in the estate agency world. Because Instagram is a social platform for so many users, it offers businesses the perfect opportunity to engage with a large audience in a low-pressure way.
If you're intentional with Instagram, you can leverage this platform to increase your visibility.
At the same time, you can create and share content that serves your target audience.
As your content and visibility grow, you can make it incredibly easy for leads to turn into clients.
Here are 15 steps you should follow to consistently accumulate leads from Instagram. Each step is designed to increase your visibility, help you engage with your ideal clients, and empower you to convert leads into loyal customers.
1. A cheeky boost to your followers
Of course you'll already have some of your rival estate agencies on Instagram, some of which will have a good following made up of landlords, owners and potential buyers.
Following some of their followers, can help you grow your own followers. Many users upon getting a follow, will follow back.
It's not against the rules and will frustrate your competitors, but getting their followers to follow you in this way is an easy approach to boost your profile.
2. Optimise Your Estate agency Bio
Optimising your bio is one of the simplest ways to boost your discoverability. 
If you're an estate agent connected with a company, your title should read like "NAME_JOB TITLE"
If you're running a company Instagram account, the title can simply be the business's name – although it should ideally include the words "estate agent." That way, your account will be tagged to come up when people are searching for an estate agent. Once your title is optimised, it's time to look at the rest of your profile.
Your bio should include a short, punchy description of how you help people or what services you offer. For example, you could say something like, "I help families find affordable homes in two weeks or less." Of course, any promises you put in your bio should be accurate and reliable – don't exaggerate the numbers just because it sounds good.
3. PIMP YOUR POSTS
Insta lets you add features to your profiles such as GIFs, polls and Q&A's.
So if you're posting a "boring" image of a new property on your books, how about add some features to help engagement?
For instance, you can throw up a poll on the same images saying "guess how much this property is worth?"
Or, rate this property out of 10?
You can then go the extra mile and direct message those that engaged with the poll or question. These people have already engaged on your post and are therefore more likely to respond. You can then understand their situation and if they have properties you can help with etc.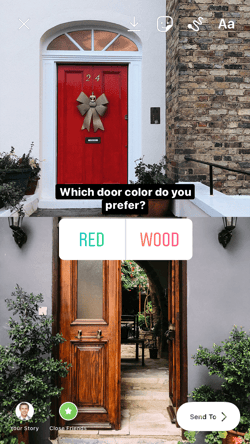 4. Consistency over perfection
Most of us are short on time and also find creating posts tedious (if you enjoy it… great!).
Creating the perfect post, with the best filters and angles can be time consuming. If you're pressed for time, then consistent average posts are better than creating fewer perfect posts.
Consistent posting helps get followers and engagement levels higher as you appear in feeds etc more. According to later.com's analysis, for the best reach rate per post, you should post:
14 times per week if you have under 1K followers
14 or 20 times per week if you have 1K-250K followers
1 times per week if you have over 250K followers
If your goal is to increase your engagement rate, you should post:
14 times per week if you have under 1K followers
1 times per week if you have over 1K followers
That's not to say create loads of sh** posts and bombard people's feeds. This point is more to ensure you're not waiting days or weeks between posts which affects momentum of growing your page.
5. Convert With Links
Under your bio, you should also include a link that takes viewers to more information about you. Because Instagram has limited space for characters in your bio, many businesses will use a free app like Linktree to both shorten their links and increase their capability.
With Linktree, a single link in an Instagram bio can take you to a page with several links. That way, you can direct viewers to other social media accounts, free training, contact information, and other relevant pages all from one central link.
Instagram used to give accounts with a large following a swipe-up feature that led to links. However, the platform has since evolved to offer all users links through the sticker function. Use this sticker to your advantage and offer your followers easy access to your content and conversion information with intuitive linking.
6. Know buyers, landlords & sellers
Before you spend too much time creating content, it pays to know who you're creating for. Who are the people whose problems you're in the perfect position to solve? Try creating a list of clients with very specific attributes and ask yourself what they're looking for in the estate agent world.
For example, the ideal client for a landlord may be young women in their 20s who are working their first jobs out of college. These individuals are detail-oriented, financially prudent, and have a growth mindset. They're on a mission to establish themselves in their careers, and they have a clear vision for where they're going in life.
The best way to market to this audience will be very different from marketing to an older demographic or young families. Your target audience can affect the best time of day to post, the type of content you create, and even the language you use on this platform. The more your following grows, the more you'll learn about your ideal clients.
7. Make Your Agency Findable
Once you know who your ideal clients are, you can make yourself easy to find. There are several ways you can signal your niche to the Instagram algorithm. Optimising your bio is the first important step because it lets your account come up when people are searching for property experts in the area.
In your bio description, it's important to use keywords for your industry. These are phrases that let Instagram know who you are and what you do. You should also be using keywords in your content captions. If you want to get even deeper into signaling the algorithm, you can go into advanced settings and fill out the ALT text for each post.
Hashtags are another way to help people find you. It's important to use phrases and terms that people interested in your industry are searching for. However, you should stay away from phrases that are tagged thousands of times – it's much less likely that people will find your account by searching these common terms. Be as specific and relevant as you can.
8. Post Diverse Content Related to Property
The content you post plays three roles. It helps people find you and it engages with a core audience of followers by giving them useful information. The content you post also shows leads the quality of your work. That's why it's so important to offer quality content on your account.
As Instagram continues to evolve, some types of content are getting pushed by the algorithm more than others. Right now, one of the best ways to increase your reach is by making reels. These short videos don't take long to make and will dramatically increase your visibility.
Your specific posting schedule and the kind of content you create will depend on your business and ideal clients. However, it's a good idea to post multiple types of content to see what your clients respond to best. Every reel, story, post, and carousel you put together is another potential path for people to find the rest of your content.
9. Solve Client Problems
Before clients decide to work with you, there are a number of questions and concerns they have to overcome. For example, they may want to know if you're credible or they may be afraid of committing before they know the cost of your services. They may wonder why you're the best fit for them.
If you can anticipate your ideal clients' questions, you can convert more leads by solving these problems through your content. For example, research shows that people are more likely to work with a company if they have a physical location. You can post about your location and include links to the website to reassure clients of your credibility.
Your content should demonstrate that you understand your clients' pain points and that you have the solution they need. For example, say your ideal clients don't have much time to look for housing. You can solve that problem by setting up quick house tours and being available at odd hours – like over lunch breaks, evenings, and weekends.
10. Repost Good Content
Sometimes, posts don't perform well because the content wasn't a good match for clients. However, other times, really good content just falls through the cracks in the algorithm. Instagram is run by a machine, and it's not a perfect mechanism.
To ensure really good content gets picked up by the algorithm, you can post similar material several times over a period of time. For example, if you're selling a really gorgeous home, try making multiple types of content about it. You could plan three different posts, two reels, and an IGTV, all using the same stellar material.
Over a period of several weeks to months, you can drop these posts one at a time. If you've done your research well, one or more will get picked up by the algorithm and help to grow your business.
This is a case of not putting all your eggs in the same basket. Multiple posts exponentially increase the probability of top content's success.
11. Engage With Viewers
Engagement is another key part of running a successful Instagram account. Remember, Instagram is just a tool that connects you with clients. While curating your content should take time, the goal of all this work is to reach real people through the screen.
You can engage with viewers in one of two ways – answering their questions and asking them questions. It's good practice to review comments and respond as though you're talking with clients in-person. When people see that you're present on your account, it will increase your credibility and show them that you care.
To learn more about your followers, you can use the question sticker. Review responses and repost any that you found interesting. You can also encourage customers to post content about your services. For example, they could do an Instagram reel house tour and tag you. Because people depend on each other, you can get a lot of new clients when people share your business with their friends.
12. Network With Businesses
Networking is key to increasing your reach on Instagram. In addition to connecting with potential clients, you should also spend time connecting with other businesses in your industry. This doesn't apply to direct competitors. However, other professionals in real estate may benefit from the connection as much as you do.
The goal of networking with other businesses is to share your followers and clients with each other. When you're featured on other accounts, new people see you and consider working with you. Because they're following a similar business, you know they're already interested in the kind of work you do.
To network with other businesses, use the search function to find good candidates for partnerships. Then, engage with their content in a meaningful way. Post right after you engage with them and try to create content they'd want to share with their followers. When they check your account, they may choose to reshare your content. This connection also influences the algorithm to pair your businesses.
13. Connect Through DMs
You can also use direct messaging (DMs) to connect with interested leads and other businesses. A good tip is to send voice notes or quick videos instead of talking through text. This makes messages feel more personal and is faster than typing everything out.
It's important to avoid sounding overly salesy in your messages. Instead of trying to sell yourself, show the client how you can help them reach their goals. After you've demonstrated your value, you can include a call to action and show them what it would look like to work with you.
Connecting with people through DMs is all about building trust. Through your conversations, you can demonstrate that you're human and showcase your expertise. If it fits in your business plan, you can even offer people some free content. However, it's also important to have boundaries and a plan for how you're going to engage with people so you can be intentional with your time.
14. Invest in Ads for your estate agency
Ads aren't usually a good strategy unless you've already followed through on the tips mentioned above. Once you've created stellar content and you've connected with the right audience, you should consider investing in Instagram ads. Paid ads will bring your content to more people who may be interested in working with you.
When people click on a promoted post, it should take them to an account with valuable information, links, and a clear path to working with you. A fifth-grader should be able to click on your account and understand who you are and what you do.
Ads can be a shortcut to generating leads, but they work best to amplify the work you've already done. When new people come to your account and see quality content, testimonials, and a large following, they'll be more likely to convert into actual clients.
Running Google Ads for your estate agency is usually more effective in getting leads and converting them. Searchers on Google want something, as they've actually done a search. Whereas Instagram users might not be actively looking for your services, which is a similar problem when running Facebook ads for your agency.
15. Retarget landlords, sellers & buyers With Meta
Because Facebook and Instagram are both owned by Meta, many of their functions are interconnected. One of the ways you can capitalize on this is by setting up your Facebook ads manager. Even if you don't have a Facebook page, you can still use the ad manager for your Instagram account.
There, you can create a custom audience – such as people who have interacted with your Meta posts so far – and retarget them. Retargeting is a highly effective way to run ads because it uses your marketing budget to talk to people who are already interested in working with you. 
Because ads do cost money, it's important to be strategic about how you use them. Using features like the audience button on Facebook ads manager can help you deploy ads effectively and reach more leads who are likely to convert to paying clients.
Increase Leads With Intentional Marketing
Instagram is a low-pressure way to introduce yourself to thousands of new people and showcase your experience through valuable content. By making yourself findable and engaging with your followers, you can develop a loyal client base.
This platform gives you an opportunity to learn more about your ideal clients so you can tailor your business to meet their needs. Through your profile and linking, you can make it easy for people to know how they can work with you and show them the ways they'll benefit from the experience. Follow these 12 steps to increase your visibility on Instagram, connect with new leads, and convert them to paying clients. Instagram is a powerful business tool – and when used strategically, it can dramatically increase your number of leads and empower your followers to become satisfied clients.