Doing well in your letting & estate agent digital marketing is essential for generating leads and property instructions. This is applicable regardless if your agency is on the high street or online.
A massive part of any letting/estate agent digital marketing is Google Ads – although many agents are inexperienced or confused on how it all works.
Ever wondered how much Howsy pays to show in ads when the term "Online Letting Agent" is searched for?
Or are you keen to know which letting/estate agent search terms have the highest % in conversion rates?
Perhaps you're interested in setting up your own letting/estate agent online advertising campaigns?
We'll cover in this article the above questions, the in's and out's of how Google Ads can help estate/letting agents and our top tips to maximise landlord & property owner leads.
GENERATING LANDLORD LEADS WITH RENTROUND 
A quick plug on our behalf! If you're an agent looking to get more leads, ensure you list your agency on Rentround.
We allow sellers & landlords to compare fees & ratings of agents in their area. If a lead likes the look of your agency, we pass their details onto you for a deal to be made. Learn more about Rentround & get a trial here.
Alternatively if you are interested in running your Google Ads but want further assistance, feel free to contact us.
1. WHAT ARE GOOGLE ADS AND HOW CAN THEY HELP ESTATE/LETTING AGENTS?
To set the context, below is an example of exactly what we mean by Google Ads.
A potential landlord has searched for the term "letting agent in London".
Although Howsy, the online letting agent, doesn't rank first for that word organically, the company has paid to show as the first result.

WHY ARE GOOGLE ADS IMPORTANT FOR LETTING & ESTATE AGENTS?
Google ads allow estate/letting agents to show at the top of search results when their keywords are searched for. Terms like "letting agents near me", "the best letting agents" and "estate agent fees" are commonly thrown into Google by landlords/property sellers. These types of terms have high demand and generate a lot of traffic to agent websites.
Needless to say, more website traffic generates more interest in your estate/letting agency and if you're good at converting leads, more instructions to manage properties.
But, being at the top of these ranking results is difficult. This is why many pay for their agency to be on the first few pages instead.
Rentround started in 2019. Just like new estate/letting agencies, Google didn't even know we existed until many months later. Until we got noticed, 100% of our landlord traffic was generated by paid adverts.
Creating your Google Ads account is quite simple, you just need to enter your email address, personal information and billing information.
We're going to skip the details of the early steps. In a nutshell, you'll be asked what your objectives are for your campaigns (i.e more sales, leads, website traffic etc) and what your spend budget is (which we'll come onto later in this series)
2. CREATING YOUR ESTATE/LETTING AGENT ADS & TRACKING WHICH GET YOU LEADS
You need to tell Google what you'd like your ads to say. Your advert will compete with other agencies that are ranking organically or are also paying to be shown in searches.
Ideally, you need to showcase what your estate/letting agency does well. This is most likely all over your website and office marketing already. These are usually to do with low agent fees, your ability to quickly find tenants or quick sale opportunities.
You'll be asked for your headlines, description text and your website link (i.e. where the landlord or property owner will go if they click on your advert).
It's key to make your ad stand out and match what terms are being searched for by landlords and property sellers. Later in our digital marketing for estate/letting agents series, we'll explore setting up ads that automatically include the keywords that are being searched for.
YOUR ESTATE/LETTING AGENCY AD DESCRIPTION
The section below the headlines is called the description. This section allows for far more information about your agent services. You can add details about your agency fees, awards and unique selling points.
Ideally, you don't want anyone but your targeted market, e.g. landlords, clicking on your advert. This is because Google will charge you per click on your account, not per impression (i.e. simply showing the ad).
The description can help this by stating exactly what your service is for. For instance, if someone searches for "property manager jobs" and the words "property manager" are in your keywords, your ad may show.
If in your description and headlines you've made clear that you provide property manager services and not property manager job roles, it will help avoid people looking for property manager vacancies clicking your ad.
This can also be done via creating a negative word list, which we'll come onto below.
CREATE MULTIPLE ADVERTS TO SEE WHICH WORK BEST WITH LANDLORDS AND SELLERS
User behaviours are always different. Their reaction to some words will be better than others.
It's best practice to create multiple adverts, then over time you can see which are getting clicks & conversions (which we'll come onto later). The well performing ads you can then tweak, while the low performing ads can be deleted.
You may find adverts that contain the words "the best letting agent" get you more clicks and conversions than the words "cheap letting agent". In this case you'd remove the words "cheap letting agent" from your adverts and create more ads with variations of "the best letting agent".
Continuous iteration will help you find the best wording to target more landlord leads.
Responsive search ads to target sellers & landlords
To help match your adverts to what users are searching, you can set up responsive search ads.
With this feature you choose up to 10 headings and descriptions.
When your keyword is triggered by a users search, Google will automatically pick when headlines and descriptions to show. It will pick out the headlines and descriptions that most relate to what is being searched for.
Overtime, Google tracks which of your headings & descriptions are most effective at getting clicks and conversions. It will then use those more to optimise your ads.
This automation alleviates the need for you to assess stats etc to optimise your account.
CLICK THROUGH RATE (CTR) OF YOUR LETTING/ESTATE AGENT ADVERTISING CAMPAIGN
Google will show you your click-through rate (CTR), which means out of how many times your ad was shown, how often it was clicked. The amount you're bidding for your ad to be shown will be a factor. If you're on the low end of the budget scale, your advert may not be at the top of the page. Potentially it will show at the bottom or even later pages.
Generally, the lower your ad is placed, the less it will be clicked.
However if you can get your headers and descriptions as optimised as possible, you advert will get more clicks vs the competition (i.e your CTR improves). This means you get more clicks at a lower cost per click.
When your CTR is low, Google may need to push your ad further up in the result page. This usually means you're charged a higher cost per click.
Tweaking your ads and assessing changes based on your improvements is a constant task. The more you tweak, the cheaper clicks you get (and therefore a lower cost per lead).
3. TARGETING THE RIGHT WORDS TO ATTRACT LANDLORDS & PROPERTY SELLERS
The next step would be to tell Google when to show your adverts. This is done by choosing your keywords that relate to your estate/letting agency. There will be generic terms that most estate/letting agents would select, i.e. letting agents, sell your property and estate agent fees
On the other hand there will be bespoke terms as well. For example, "guaranteed rent services in Birmingham" or "cheap estate agent in Manchester".
Finally think about other services your agency offers as well as variations. Do you offer low low letting agent fees? Then targeting "property manager fees" and "property manager costs" will also be sensible keywords to target. These terms imply the user is looking for an agent based on costs.
Some landlords or property sellers might be only looking for a specific services from a letting or estate agent. For instant tenant find or maintenance services. The names of the services should also be part of your targeted keywords.
SEARCH VOLUMES FOR KEYWORDS IN THE PROPERTY INDUSTRY
Google will be able to tell you which search terms are searched for the most often. In addition, which search terms you may want to select. This is done via the "Keyword Planner" section
To see common words and search volumes related to the keywords "letting agent", you type the term into the search section and press enter.
The results will show other words related to the words "letting agent" and the average number of monthly searches and competition for those words.
This section of Google Ads will help generate ideas for key terms you want to target and what volume of clicks you can expect.
You may have a plan to target a very niche term such as "find a tenant quickly in London". However it that only has 5 searches a month, it may provide little results.
Whereas you may come across a key term that is very applicable to your competitive advantage which has a high number of searches a month and low competition (so you won't have to pay much per click).
You want to exploit these types of keywords to maximise your conversion rate.
ADDING NEGATIVE WORDS TO YOUR LETTING/ESTATE AGENT DIGITAL MARKETING
Just as important as telling Google when to show your estate/letting agent ads, it's equally important to tell Google when to avoid showing your ads. This is done by negative keywords.
Let's take an example, say your letting/estate agent marketing campaign is to attract landlord leads. At this point you're not overly concerned with attracting tenants to fill properties you're managing.
Targeting the words "letting agent fees" is quite sensible. You'll be reaching out to landlords who are enquiring what letting agent fees are in their area.
But, the words "letting agent fees for tenants" may also be a common search term. As the term suggests, the searchers are most likely tenants investigating what fees may be charged to them by letting agents.
You don't want to spend your budget on these keywords as tenants aren't your target market. Therefore a suitable suggestion would be to add the words "for tenants" into the negative keyword section.
Overtime, you'll have a list of what exact search terms are triggering your adverts. When making your estate agency digital marketing campaigns more efficient, it's important you keep adding to your negative keywords.
BIDDING FOR THE WORDS THAT ATTRACT MORE LEADS
Google Ads offers different bidding campaigns for its customers. There's a wide span across automated and manual bids.
For the fully automated bidding options, Google will target the users it thinks will click on your site/convert, based on past behaviours and patterns. It's algorithms will do most of the work for you. Ideally you need conversion tracking enabled. This means you've set your site up to tell Google which user clicks resulted in landlords passing on their details to you, or giving you a call.
This will be covered more in further issues of our digital estate agent marketing for estate & letting agents
For now, we'll stick to manual bidding strategies, where you choose the amount you'd like to pay per click.
It's not one price that fits all. You can choose which words you want to pay more for per click and which to pay less for.
4. SETTING YOUR BIDS FOR YOUR ESTATE/LETTING AGENT KEYWORDS
To start, the prices you set for your keywords will always fluctuate. The prices are set by demand. If more agencies are competing for the same words, the higher the cost per click will be. As an example, bidding to be at the top of Google for the words "letting agent" costs £3.39 per click.
Prices aren't chosen at random. Google shows you what the bid rate is, to place your ad first, in the top section or at the bottom of Google search results.
In addition, if your bids aren't enough, Google will inform you that your ad will not show on the first page.
Based on below, you can see the estimated bids to place ads first, top or on the first page of a search result, for a selection of 3 terms.
There's a distinct increase as you bid to go from the top section of a result, to be placed first.
Determining which position to target can be tricky. You don't want to be paying for the first position if the bids are costly and the searches don't convert.
On the other hand you don't want to be bidding too low, in the fear of missing out on clicks that may turn out to convert.
With conversion tracking, you'll get a metric that shows you which words are working best, for turning the clicks into either a landlord or property buyer/seller passing on their details or giving you a call via your website.
This information will then allow you to adjust your bids to target the words that convert the most.
WHY ARE SOME ESTATE/LETTING AGENT TERMS SO COSTLY?
As I alluded to earlier, bids for keyword are based on the demand. Demand is influenced by rivals knowing what keywords convert well.
If a keyword converts well, the likelihood is that the word will require a large cost per click bid.
Below the term "online letting agent" is priced at a whopping £15+. This indicates demand to be ranked first, therefore you can assume it converts well for online letting agents.
Not all users click on the first ranked advert. Looking at the below image, ranking top or even on the first page is substantially cheaper. Settling for these options may be a sensible choice as even placing on the bottom of the first ranked page will get you clicks.
5. SETTING UP CONVERSION TRACKING FOR YOUR LETTING/ESTATE AGENT DIGITAL MARKETING
Conversion tracking is essential to understand which clicks are providing value. You could have a thousand clicks on your ads, but if none contact you to be converted into a property instruction, what's the point?
Setup this feature will track how many of the clicks on your ad reach a point on your site which classifies as a conversion. For instance if you're selling a product, how many clicks resulted in a successful checkout of a sale.
Conversion tracking also shows you which search terms convert the most. This enables you to then focus on those keywords, possibly increasing your bids. Vice versa for the terms that do not convert well.
For the estate & letting agents, a conversion is a new rental property to manage, a new house to sell or a potential buyer of a property. These types of conversions will most likely be tracked in terms of which users contact your agency, via email or phone (some more sophisticated agents may allow customers to sign up to services online).
To activate the conversion tracking, a simple piece of code will be placed on a page that indicates a successful conversion, i.e. a contact form or a call now button (commonly on mobile versions of websites).
On Rentround, we track conversions based on how many landlords enter their details on our personal details form, below.
Our code is placed behind the "See My Agents" button. Once a landlord enters their details correctly and clicks that button, a message is sent to Google Ads to track that conversion (i.e. a landlord lead).
REVIEWING YOUR CONVERSION PROCESS IS KEY FOR LETTING/ESTATE AGENT DIGITAL MARKETING
Your site may include a few steps before a click is classified as a conversion. Conversion tracking can therefore not just track full conversions, but also track where landlords or property sellers are dropping out of your conversion process.
You want to streamline your process as much as possible, reducing the complexity between a click on your site to the user becoming a conversion.
On Rentround, there are a total of 4 steps (3 before the above form) to consider a click a successful conversion. We have historically tracked at what point users drop out of the conversion process.
This has enabled us to implement improvements for steps where we have significant drop offs.
6. SETTING YOUR LOCATIONS FOR YOUR LETTING/ESTATE AGENT DIGITAL MARKETING
Your location will for sure need to play into your Google Ad setup. If you're a letting agent in Manchester, there's little value in showing your ads for potential customers in Glasgow.
Google lets you select which locations to show your ads to. You can either select a location and choose a mile radius around that. On the other hand you can select specific postcodes to target.
This ensures that your ads only show in areas where you want leads from.
Many online estate and letting agents may be targeting nationwide customers. Potentially simply telling Google to target the whole of the UK.
However some areas may be more profitable than others. For instance if Liverpool has a high number of conversions, bidding can be increased for that region across all key words.
You simply need to tell Google the % you are happy to increase your bids by for keywords in that region
7. Retargeting site visitors
People who've visited your site have an awareness of your brand and services.
As a result, they are 43% more likely to convert.
Thankfully Google lets you retarget past site visitors with display ads. So when a previous site visitor browses the internet, you get the chance to hit them with your estate agency's advert.
As an example, I recently visited Vistaprint. While on the Daily Mirror's site, I'm seeing their ad as they try to entice me to complete my purchase with them.
Setting this up is quite simple. 
First create an audience in the Audience Manager section of your account
Then click on 'Website Visitors'
You'll then be asked a series of questions, regarding what type of visitors you want to target, for example:
Visitors that clicked on multiple pages of your site.

Visitors that have viewed a certain page. You can get quite smart with this. For example, if you have a landlord page, you can target these visitors with ads that focus on your ability to manage rental property and vice versa for sales.

Google lets you target people who have visited your site between certain dates
Once you have created your audience, you then need to create a campaign and add your images & text descriptions.
After that, you need to tell the campaign to target the audience list you created previously. 
This campaign will now try to hit previous visitors to your site with more ads for your agency.
Depending on your Google ad spend and history (and if you have conversion tracking enabled), you can pay per click or even better, pay per conversion you get via the display ads.
8. Target people similar to your landlords & past sellers
Google has a mass amount of data. They know names, ages, locations, emails, browsing habits and site behaviour of thousands of landlords & property sellers.
With all this data, they can work out who is similar to who. Why is this important? Because it can help you target landlords & sellers that are similar to your current landlords & past sellers you have worked with.
To start, you need a database of your past clients: Names, numbers, addresses and emails are a good start.
You can then load this into Google and create an audience list in the same way you did for your past visitor audience list.
Once Google has analysed your loaded data, it will give you the chance to target people with similar interests & behaviours to your list, i.e. potentially other landlords & sellers.
Once you've tweaked your data and loaded into Google (which can be a bit tricky, but after a few fixes it usually works), you need to create a campaign and set the targeting to be against this audience list you just created (i.e. the same way I describe above for targeting past site visitors).
One point to note is Google doesn't allow everyone to do this, your account has to qualify. It comes down to how much you've spent, how long your account has been active for and the number of past conversions you've obtained.
9. Should you focus on Facebook or Google Ads?
Facebook ads will be cheaper meaning you'll get more clicks to your site. 
However the 'intent' isn't going to be as strong as Google Ads. 
Your Facebook clicks will be from people who were browsing on Facebook, unlikely to be looking for an estate agent. Your ad caught their attention and they gave it a click.
On Google, the user is actively searching for a term you are targeting. So although the clicks are more expensive, the resulting leads are likely to be of a higher quality.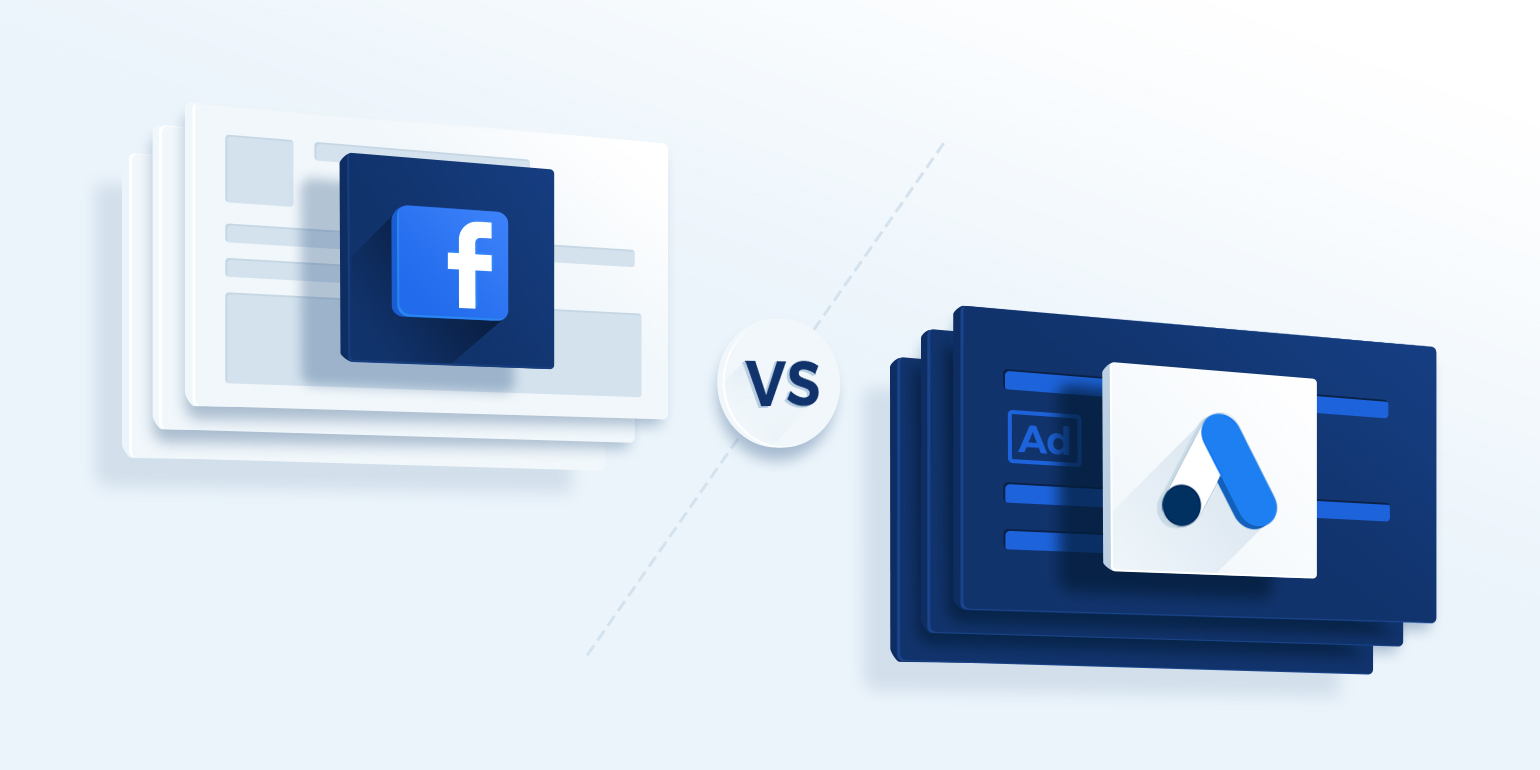 The above is assuming that you are running Google and Facebook ads to generate leads, i.e. you want a click on your site then the user eventually calls you or fills out a lead generation form (which could be a valuation tool or in our case, an agent comparison tool).
If your approach is to create brand awareness and get your brand in front of people in the property world, then Facebook ads would be a great tool for you.
Conclusion
I hope our letting & estate agent digital marketing guide focusing on Google Ads will help your agency. Stay tuned for further content on the subject of digital marketing, that will help you get more leads.
As discussed above, Rentround will help you get more leads if you're an agent. Listing is quick and simple. Better yet, you get a 25% off your first month using code 25LEAD. If a lead compares agents in your area and likes the look of your agency, they'll send you their details for a deal to be made.
Agents click here to enter your agent fees, services and description.