Strike, the estate agents are making waves in the property market. If you're considering using Strike, you should be aware of what services they offer, their reviews and how they actually make money.
The property market is hotter now than ever before with housing prices increasing nearly 10% over the last year. Whether you're looking to buy or sell, you'll likely need some help navigating this competitive market. But with over 19,500 estate agents in the UK area, all claiming to be the best, choosing an agent can be as overwhelming as choosing a property.  That's why we're here to help simplify the process and take an in-depth look at Strike.
This online estate agency offers a variety of services for both buyers and sellers and claims to do much of its work for free. Does this sound too good to be true? How does it compare to Purplebricks? Keep reading to find out if Strike deserves your time, attention, and business.
A snapshot of how we rate Strike
If you haven't got time to read our full review, check out below for an at a glance review.
We've rated Strike against a few variables we feel are important to customers. 
The company stacks up "OK" in terms of its offering, some things good, some things bad.
For a full picture, read the full review.
| | |
| --- | --- |
| | |
| | |
| | |
| | |
| | |
| | |
| | |
How does Strike look vs its competitors?
Strike isn't the only online agent, but it's one of the few that offers to sell your house for free.
Fees when selling a property are important, but not always the ONLY factor.
See below how Strike ranks against some of the popular online estate agents
| | | | |
| --- | --- | --- | --- |
| | | | |
| | | | |
| | | | |
| Fee for selling a property - London | | | |
| Fee for selling a property | | | |
| | | | |
| | | | |
| Listed on Rightmove & Zoopla | | | |
| | | | |
| | | | |
| | | | |
| | | | |
| | | | |
| | | | |
| | | | |
| | | | |
About Strike
Strike is an online estate agency (formerly known as Housesimple) that promises to make moving simple, transparent, and free. Strike prides itself on the following principles:
Transparent – Agents are honest, straightforward, open, and on your side.

Empowering – You're in control of your listing and buying options but Strike's support team is never far away.

Collaborative – Focus on building strong partnerships to deliver the best results for everyone.

Digital – Strike uses technology and data insights to create a seamless journey from start to finish. 
Other impressive statistics include:
£

5.02 billion in property sold since its launch 

628 listings are requested every day (that totals one every 2 minutes) 

15,026 people moves this year (that totals 41 per day)

901,538 boxes used to move clients 
How Does Strike Make Money?
So is Strike really free? How can Strike provide all of these services at no charge? That's where things get a little tricky. While Strike technically sells your house for free, they do charge for individual services along the way. 
If you don't utilize any of their additional help, you may actually end up paying nothing. However, chances are, you'll need at least a few of their services throughout the sale process. According to their website, 40% of customers choose a totally free sale while 60% utilize optional extras at a fee.
Here's what's included free of charge, plus the services you can pay for and how much they'll cost you. 
Free Services
Property valuation

Listings on popular property portals

A free app to download and connect directly with buyers

Professional negotiations on your behalf from an experienced agent 

Customer service support from start to finish
Here are a few things to keep in mind about these free services. For example, the valuation is done mostly online using data and information that's accessible to anyone – if you know where to look (similar to Zoopla's or Nationwide's house price calculators). This includes recent sales data and current market trends. When the agent visits your home, this is more to sell themselves to you than to sell your home and helps put a face to the name.
Additional Services and Associated Fees
Mortgage advice (no price listed)

Marketing Boosts –

£799 – the Performance Package includes professional photos, a video trailer, and a premium listing on Rightmove

Hosted Viewings Package – £699 – Strike agents host viewings and showings for you so you don't have to

Moving services (free) – Strike's personal moving companies will help with surveys and removals at no cost. Strike does, however, receive a referral fee from these providers. 
Strike News, Awards, and Affiliations
Strike has received its fair share of awards over the years and made news headlines. 
In 2021, Strike was honored as the Best Online Agent of the Year by ESTAS for the second year in a row. This is in addition to receiving the same honor in 2018. Strike was commended for its continued growth and expansion despite facing difficult times and uncertainty during the Covid-19 pandemic. The ESTAS award is voted on and given by satisfied customers, which Strike claims they've helped save millions in estate agent fees over the years.
Strike also recently expanded beyond London and is now a nationwide company with agents on the ground throughout England. Virtual services have always allowed property owners to buy, sell, and advertise their properties across the country. But now, you can get physical valuations, photo shoots, and floor plans from local agents right inside your own neighborhood. 
In addition to these accolades, Strike is also part of The Property Ombudsman and the Approved Code Trading Standards. 
Strike Review
Anytime you're looking to make a purchase or hire a service, you want to check out online reviews. Here you can see what former and current clients and customers have to say about a particular company. This gives you a more honest viewpoint and an outsider's perspective. So, what are people saying about Strike? Let's take a look.
Positive Reviews
Let's start with the good stuff. Strike has a status of "excellent" on Trustpilot with 4.6 out of 5 stars. These results are based on over 18,000 reviews, making this nearly 5-star rating pretty impressive. 
Here's what people have to say about using Strike.
Ease of Use
Most customers reported that from start to finish, using Strike was quick and easy. Property listings were completed and posted within 24 hours with many properties selling within the first few days. Other customers attributed the ease of use and smooth process to Strike's professional, helpful, and experienced staff. 
Great Service for Free
A lot of Strike's positive reviews mention getting excellent service and results for free, which indicates that the free services may really be enough to sell your property quickly, efficiently, and for the asking price. One satisfied customer claimed to get "top service for free". They reported receiving constant support and excellent customer service without ever being charged typical hidden fees associated with other companies. Other happy customers noted competitive pricing and negotiations plus good communication.
No Pushy Sales
Since many of Strike's services are available for free, you'd think their agents would try to upsell you at every turn. But according to most of the company's online reviews, this simply isn't the case. Customers reported never feeling pressured into using their add-ons or extras. One client wanted a professional video done while another needed mortgage advice, but neither felt obligated to book these services and described it as a "good experience with no hard sell to use the paid services". 
Puts You in Control 
Another common theme among many positive reviews for Strike is that clients enjoyed being in control of the sale every step of the way. This included approving and making changes to the listing, handling offers and bookings, conducting viewings, and having 24/7 access to the easy-to-use app. 
Negative Reviews
Despite offering countless services for free and having high-star ratings on most review sites, using Strike doesn't come without its disadvantages. Here are some of the not-so-positive things customers have to say about this particular online agency.
Lack of Service Once an Offer is Made
Strike claims to support your sale from start to finish but some unhappy customers beg to differ. Clients report that after receiving an offer the helpful agent who walked them through most of the process effectively disappeared. Some also reported that as the sale progressed, the "personal touch" they experienced, in the beginning, started to dissipate. 
Poor Communication
A few customers reported a lack of communication from the start, with one review claiming no one from Strike ever even returned their phone call. Another said they felt completely in the dark about the process and how their sale was progressing. There were some complaints from potential buyers using the site as well, with one stating that Strike strung them along for over a week as they attempted to schedule a viewing. In the end, the customer claims the property was sold out from under them and they were left back at square one. 
Not Enough Interest in Properties
Another common complaint of some customers was that their property didn't yield the viewings or results they'd hoped for or were promised. Some unhappy customers said they were pressured into purchasing additional packages and services, although most reviews claim the opposite. One person who purchased the hosting package for £700 said they didn't have a single showing or interested buyer the entire time and were forced to use a different agency. 
How to use Strike Step by Step
Below is a guide on how to use Stikes services, step by step.
 1. When you click on "Book a valuation", you'll be asked to enter the property's postcode. 
2. After entering your postcode, you're then promoted to use a virtual valuation instead. From a business perspective, these types of valuations are quicker and cheaper to conduct. However from a customer perspective, they may not be as accurate as you'd like
3. Once you enter your postcode, you're asked for your contact details and situation in regards to your enquiry
4. Once complete, you're then asked to pick a date and time for the valuation. The timings are pretty flexible and there is a lot of availability which is great
5. You are then all booked in!
How it went calling Strike for more information
When we tried calling Strike the first time, we waited 10 minutes without any response, so we hung up. We decided to try again and on the second attempt, we only waited about 2 minutes. After that, we connected with a knowledgeable and pleasant sales associate that answered most of our questions without any fuss or pushy sales tactics.
Our experience with the company's email service was about the same – simple and straightforward. We received a quick response to our original message where a Strike representative answered most of our questions in a direct manner. 
Services Strike Offers
Another major appeal that attracts business for this estate agency is the wide range of services it offers. Here's a closer look at what to expect if you're a buyer or seller using Strike.
For Buyers
On Strike's website, you can search properties based on several criteria including location, size, and price. Strike lists properties across the country, so there are no limits to where a quick search will take you. Once you do find your dream home, Strike offers mortgage services and also buy to let mortgage advice to help you secure the funds you need to make an offer. Users have access to over 12,000 mortgage deals, some of which are exclusive to Strike and can't be found by contacting the companies directly. 
For Sellers
This is where Strike really flexes its muscles – by helping thousands of people sell their properties for above the asking price. And they claim to do it for free! With most agencies taking a hefty percentage of the sale price or charging exorbitant fees, how can Strike offer these same services for free? Let's take a closer look at their 3-step selling process and any hidden fees.
Step One 
First, you can request a detailed and accurate valuation from one of Strike's friendly and experienced agents. Next, the agent will create an eye-catching advertisement including gorgeous photos and floorplans. Most properties hit the market within 24 hours of first contacting the agency. Your listing will also appear on all the most popular platforms including Rightmove and Zoopla. View and approve your listing easily on the company's app and request any changes or updates. 
Step Two
Strike is determined to get you the best offer for your property. Agents work tirelessly to get your advertisement seen by millions of potential buyers. This includes conducting virtual and in-person viewings that work for your schedule. After showing your property, the agent will contact you with feedback from the potential buyers. All reports are conveniently sent to your phone. If an offer is made, the agent will help you negotiate and come to an agreement that gets you the best possible price.
Strike Three
Even after an offer is made and accepted, the agents at Strike will walk you through the rest of the process, keeping you updated along the way. Agents deal with the solicitors, contract signing, and conveyancing to expedite the process and reduce any hassle or stress for you. Strike even offers moving services.
If you're selling your property and looking to compare estate agents, Rentround can help for sure! We help sellers compare estate agent fees, services and ratings for free.
What we like about Strike
There are several things about Strike that we like and feel are beneficial for landlords, tenants, and property owners. 
For starters, Strike has very strong branding. The company itself has a great reputation among smaller estate agencies, offering a great value for the money. The Strike brand is also synonymous with top-notch customer service, as represented by our phone and email encounters. Because Strike is a smaller estate agency, it's easier for them to provide personalized, hands-on services in a timely fashion. The company also prides itself on getting every customer the best offer possible. 
The Strike website is clear, easy to navigate, and updated regularly. You never have to worry about getting outdated or incorrect information. Simply choose from one of the drop down menus at the top of the page for buying or selling a property. Each drop down shows a list of available services and associated fees for you to browse.
Another feature of the Strike website that we really like are the useful guides and tutorials located at the bottom of the homepage. These well-written guides offer plenty of advice and information for both landlords and tenants. Popular topics include a complete guide for first-time buyers, a step-by-step guide to selling your home, and a moving cost calculator that helps homeowners set a budget. Similar to a blog, Strike's guides offer valuable information on the current property market. Like the website's prices and plans, these guides are usually up-to-date and accurate based on current property market rules and regulations. 
Improvements to be made to their service
There are a few changes that we think would improve Strike's services even further. As much as Strike brags about their ability to get property owners the best possible price, it would be helpful if they included these statistics and metrics on their website. We couldn't find any specific information on exactly how often Strike achieves asking price or above for their clients. 
Strike might also benefit from offering services similar to OpenRent that are strictly completed online. Things like a free online valuation for property owners looking to list their properties immediately. This would allow users to register, price their property, and upload their listing to the portal almost immediately. 
Another thing we noticed is that Strike claims to have "so many" properties for sale, but following a quick search for properties available in HA4, we were met with listings in other nearby postcodes. The property supply on Strike seems limited compared to similar sites. 
Expert opinion
"Strike are going through a massive period of growth and this could be further built upon when you factor in current discussions over a purchase of rivals Purplebricks.

The branding is on point and so are their range of services.

However with low cost agents, the problem has always been the same (and its a big one)… being profitable.

My concern would be that the firm would attract the more savvy sellers, looking for a low selling fee above all else. 

Therefore, they are likely to be in the same mindset when it comes to mortgages, moving services etc – the services Strike aim to make money from. 

If customers veer away from Strike add on services due to cost, that throws the model out the window.

Rivals like Purplebricks went big on sponsorships and marketing, but publicity and a more competitive environment threw a spanner in the works.

If Strike can learn from the failures of other online agents, their model has the potential to be a game changer."
Raj Dosanjh, Rentround Founder
A Brief History of Strike
Sometimes, the best way to get to know more about an estate agent is to look at where they got their start. To learn more about the history of Strike, we must first look at Housesimple. Prior to July 2020, Strike was Housesimple, an agency founded in 2007. Given this date, Strike was technically one of the first online estate agents in the UK.
In the early years, Housesimple flew under the radar, living in the shadows of larger agents with bigger budgets. In 2016, Sir Charles Dunstone (the founder of Carphone Warehouse) took a chance on the small company and invested £13m in the firm. This investment helped Housesimple establish itself as a top competitor in the online market.
Three years later, in June 2019, Housesimple made the major decision to switch from a paid service to 100% free! Many people saw this as a suicide mission and predicted the beginning of the end for Housesimple. 
However, just one year later, Housesimple still reigned supreme as a leading online agent offering free services and outranking its competitors. In July 2020, Housesimple made another shocking change by rebranding itself as Strike, which the company still goes by today.
No one really knows exactly why Housesimple decided to rebrand itself, other than wanting a fresh start and breaking ties with the Housesimple name which spent decades charging for services. Now, with a new name and marketing plan, Strike continues to grow and strives to become the top "free" estate agent in the UK.
Today, Chief Executive Sam Mitchell is the face of Strike. Mitchell previously worked as the Head of Lettings for Rightmove and has past connections to Foxtons and Your Move. Mitchell has the experience and industry knowledge to help Strike continue to expand its reach and establish itself as a leading online agent. 
Strikes Funding
Recent investments have given Strike the ability to increase its market share. In the summer of 2021, Strike made its way into the West Midlands and central England with hopes of offering nationwide services sometime in the near future. Strike set a goal of raising £11m to support these efforts.
Two recent investors have played a major role in Strike's expansion – Channel 4 Ventures and Sir Peter Wood via SPWOne. Other interested backers include Toscafund and Freston Ventures. Sir Peter Wood is the founder of Direct Line, a technology-based insurance disruptor. He's also the founder investor of GoCompare.com. His interest and investment in Strike is the first of its kind.
Wood credited the agent's "clarity of proposition and innovation" for capturing his attention. He also commented on Strike's exemplary customer support and continually striving toward upward mobility. Wood also suggested future interest in the company by saying he "looks forward to supporting the business as it develops."
Vinay Solanki of Channel 4 Ventures stated that Strike's ambition is redefining the way people move homes, which resonates closely with the company's core values. Solanki said Channel 4 Ventures is excited to see the continued growth of such a forward-thinking business as Strike.
Strike's Top Competitors at a Glance
Purplebricks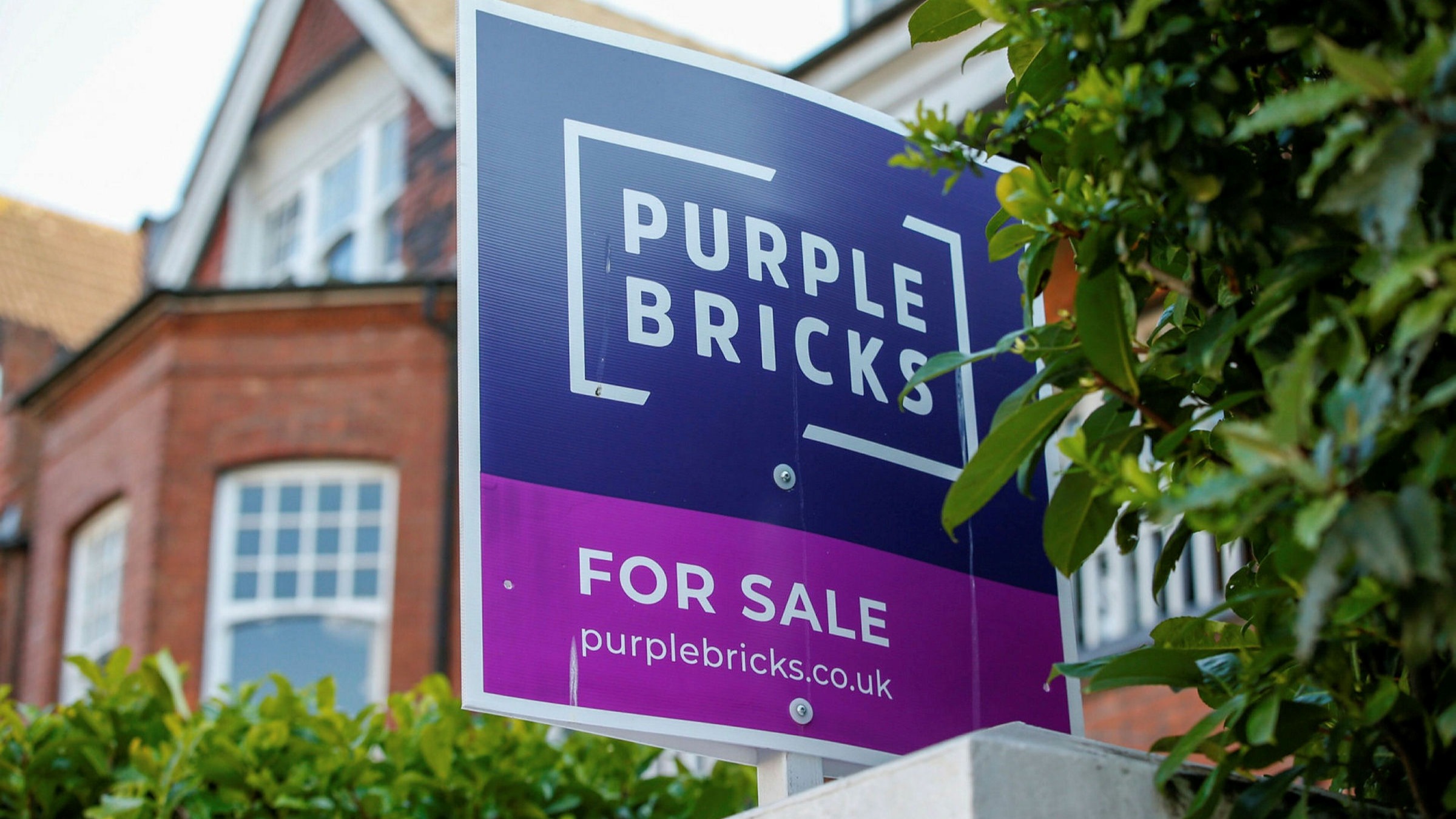 As of this writing, Purplebricks is the top online letting agent in the UK – and for good reason. They've spent a small fortune on advertising to skyrocket their brand to the top of the leaderboard and your Google feed. But an oversized marketing budget doesn't necessarily mean Purplebricks gives you the best bang for your buck.
Like most other UK estate agents, Purple Bricks will advertise and sell your property for a fixed fee. Unlike Strike, which offers free services, Purple Bricks charges a flat rate of £1199 to market and sell your property online and £1999 in London. Unlike Strike and other online agents, Purplebricks doesn't offer a "no sale no fee" feature. They also charge an additional £400 for hosted viewings (and £500 if your property's located in London). You'll also pay £84 for an EPC.
In the name of modern technology, Purple Bricks doesn't offer newspaper advertising, sale boards, window displays, or any other services normally offered by high-street agents. They strictly do business online, which has its pros and cons.
Purplebricks does offer an extensive list of online services including photography, home showings, help to schedule showings, and processing all the necessary paperwork and documents using e-sign. Purple Bricks is one of the only agents with a mobile app that lets you manage your properties from your smartphone or tablet, but this may also cost you extra.
 If you're dead set on using a leading brand based on name alone (and don't mind paying for it), Purplebricks is a reasonable option. 
Yopa
Another leading competitor in the online estate agent market is Yopa. In recent years, Yopa has come close to Purple Brick's exorbitant spending budget in an effort to get ahead. Yopa's online services include free house valuations and advertising. Users can schedule and manage viewings and offer through their assigned agent.
 In terms of price, Yopa charges £999 for the above-mentioned services. In London (where a lot of Yopa's focus is), you can expect to pay closer to £1499. Based on your location, Yopa does offer some "no sale no fee" deals and also charges £300 for hosted viewings and £85 for an EPC. Yopa also claims to save clients £2800 with the Pay Later option. 
One downside to this agent is that there's no online dashboard or app available. That means you can't manage your own listings without the help of one of Yopa's agents. 
Sold.co.uk
Sold.co.uk is another online estate agent with a lot of the same services and mostly positive reviews. Sold.co.uk prides itself on offering fully-managed services from start to finish and a stress-free experience. 
This agent also claims to sell properties faster than any other online agent in its category. The initial selling process is free and Sold.co.uk even covers any legal costs you may incur as part of the process. 
All you have to do is enter some basic information about your property to receive a free valuation. Sold.co.uk then assigns you a qualified agent to organize photos, advertising, and viewings. Sold.co.uk uses multiple databases to advertise your property, increasing exposure and expediting the sale process. Once you accept an offer, your dedicated agent takes care of all the necessary documents and paperwork. 
Sold.co.uk charges the buyer, not the seller, which means you pay little to nothing for their services. The payments and fees are not as straightforward as Strike, though. While Strike works more like a traditional estate agent, Sold.co.uk works more like a cash buyer company. Sold.co.uk will negotiate a listing price for your property with their own cut built in. 
Agreed.co.uk
Agreed.co.uk offers both estate and letting services, which means they can assist with both selling or renting out your property. The steps of the process are relatively the same, regardless of which service you need. You start by creating your listing including photos, floorplans, and a detailed description. 
Next, you choose how and where to market your property. The more exposure you want, the more you can expect to pay. You can then use the platform's calendar to pick and choose when you're available for viewings and showings. You can also view and reject or accept offers on the website.
Once you accept an offer, a solicitor from the agent's team will help facilitate the process of signing documents and filing the necessary paperwork. Agree.co.uk offers a few differing pricing plans and packages including free services, a weekly package for £9.99 and a quarterly package for  £99.99. 
Similar to Strike and other agents on this list, Agreed.co.uk will advertise your listing on all the most popular property portals including Zoopla, Rightmove, and Primelocation, depending on the package you choose. 
Strike: Is Free Really Too Good to Be True?
The jury's still out on this question but from what most online reviews have to say, Strike's free services are pretty impressive. With that being said, you need to perform a lot of the legwork yourself from hosting viewings and fielding offers to approving the listing. As the sale gets going and things get a little more complicated, you may end up paying for additional support and services.
At the end of the day, it all comes down to how much you're willing to spend and what services you need. The one good thing about Strike is that they don't seem to have any hidden fees. You know exactly what's free and what services are additional and you can pick and choose from there. So, perhaps the old adage "you get what you pay for" doesn't really apply here, but if you want a comprehensive service with an experienced agent walking you through the entire process, you'll probably end up paying for some add-ons. But with most sales on the site happening within the first 24 hours, these fees may be a small price to pay for your dream home!
Strike FAQs
[sc_fs_multi_faq headline-0="h2″ question-0="How do Strike Estate Agents work?" answer-0="Strike will advertise your property and aim to sell your property quickly. As an online agent, you'll need to do viewings, etc yourself. The agency sells your house for free and makes money from add-on services such as moving specialists, mortgages, etc" image-0="" headline-1="h2″ question-1="Who owns Strike Estate Agents?" answer-1="Strike is headed up by Sam Mitchell, chief executive officer. Sam started at Foxtons Beginning his property career at the London estate agency within its financial services division in 2006. " image-1="" headline-2="h2″ question-2="How do Strike estate agents make money?" answer-2="Strike while selling your house for free, make money via their add-on services such as hosted viewings, enhanced marketing, moving assistance, and mortgages. " image-2="" headline-3="h2″ question-3="Should I use Strike to sell my property?" answer-3="If you are looking for an online estate agent and looking to save money, Strike could be a good option. For sellers looking for a less hands on approach, a traditional agent may be a better choice." image-3="" count="4″ html="true" css_class=""]